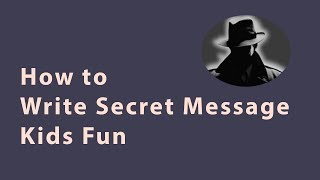 How to Write Secret Message Using Soap - Magic with Soap | Kids Experiment in Jam With Kicha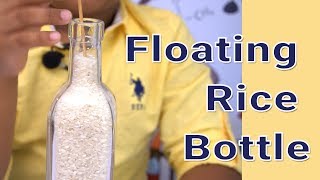 Floating Rice Bottle Trick - How to Float Rice in a Bottle | Cool Science Experiment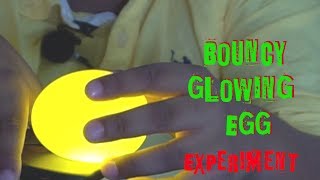 How to Make Bouncy Glowing Egg | Vinegar and egg | Rubber Egg Home Experiment for Kids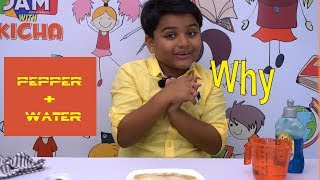 Pepper and Water Science Magic Trick for Kids | Science Experiment for Kids | jam With Kicha
How to Write Secret Message Using Soap - Magic with Soap | Kids Experiment in Jam With Kicha

Kids likes to pretend to be a spy and send secret messages. There are many ways they play the game, one of which is sending secret message to another friend which can be read only by the person who receives it. A easy tip for kids to write secret message : - for this we need a soap, paper and water. Write a message on the paper with the soap. Give it to your friend and ask him to dip the paper in water The message will appear.

Floating Rice Bottle Trick - How to Float Rice in a Bottle | Cool Science Experiment

When the stick is inserted into the bottle packed with rice, it takes up additional space inside of the bottle . As rice is not fluid and has great difficulty moving up to the neck of the bottle to compensate for the space that the stick takes up, the packed rice has very little space to move so it tends to press against each other to the side of the bottle. So the friction helps to hold the stick in the bottle as the bottle is lifted. Jam with kicha " Just a minute with kicha" is Just for kids, Kicha will be showcasing small home experiments for kids like, bouncy egg, floating rice bottle and many more he also present good informative topics to kids, as he started getting lots of enquirers about unboxing of products he is planning to unbox or introduce new products in Jam with Kicha

How to Make Bouncy Glowing Egg | Vinegar and egg | Rubber Egg Home Experiment for Kids

How to make bouncy glowing rubber egg? Use vinegar and eggs. Dip the egg in vinegar, leave for 24 hours. Then remove and wash the residue collecting shells. The egg is soft, you can knead. But do not press too hard because it may break . Rubber glowing egg. easy home experiment by Kicha in Jam with Kichha - just a minute with Kicha for kids

Pepper and Water Science Magic Trick for Kids | Science Experiment for Kids | jam With Kicha

Home tricks just for kids, just a minute with kicha will be showcasing science magic tricks / information / products reviews in JAM WITH KICHA. For this experiment you need a plate, water, pepper powder and liquid soap. 1. Pour water into the plate. 2. Add pepper powder to it (pepper will not dissolve in water). 3. Take a drop of liquid soap in your finger and touch in the middle of the plate. 4. All pepper moves out from the center and forms a circle. Why ? As the soap moves into the water, and the surface tension changes, the pepper no longer floats on top. But the water molecules still want to keep the surface tension going, so they pull back away from the soap, and carry the pepper along with them.